Recurring & Batch Payments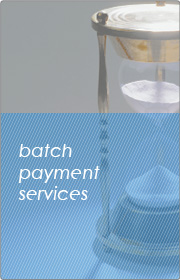 Ctel Group recognises that in some cases it is not practical for businesses to process payments in real-time. This is why we offer the option to process payments in batches at more convenient times.
Our batch service is an end to end solution that provides you with a simple and cost effective alternative to real-time processing.
Batch Direct
If you opt for batch processing you only collate a "batch file" containing details of the payments to be processed, and forward it for submission. Once this is complete, you will receive an electronic report contacting the outcome of each transaction. This system can be completely automated and reports can be customised to suit your needs.
Contact Us About Batch & Recurring Payments
For further information on how integration will benefit your business, contact us on 1300 55 2835